Our Services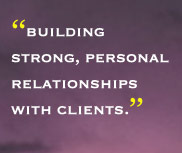 At Al Kttbi & Associates, we have designed an audit approach whereby services of the highest professional standards are given to the clients. Our Audits are conducted in accordance with International Financial Reporting Standards and International Standards on Audit.
We have a risk based approach rather than compliance based one. We always identify the risk areas and provide suggestions for improvement. It is our policy to have an ongoing active interaction with the management on continuous basis. Other than the audit and accounting services we try to make a world of difference by having access to a wide range of consultancy expertise through in house and alliances.
Our business is about helping people, whether you're running a business, heading up a major corporation or need advice just for you; our people are committed to delivering what you need.
CORE SERVICES
Statutory Audit and Internal and Investigative Audit
Conducted in accordance with international financial reporting standards and international auditing standards.
Use of computer assisted audit techniques.
Design and implementation of internal control
Effective solution recommended
Company Formation
Limited liability companies
Offshore Company Formation
Zree Zone Establishments / Companies (FZE / FZCO)
Branch / Representative office of Foreign Company.
Business Start-up Procedures
Conversion / Relocation / Mergers & Acquisitions
CONSULTANCY SERVICES
Management Consultancy
Feasibility Study and Business Plan.
Strategic Planning
Franchise / Trade Mark & Patent Registration
Support services
Accountancy Services
Corporate Finance
Accounting Software Implementation
Business Start-up Procedures
Our aim is to develop long lasting relationships. Whether you're an individual, a small family-owned business, a large complex corporation, or a government department, the principles we apply are the same.
We seek to understand your needs, deliver exceptional service and provide the results you expect.